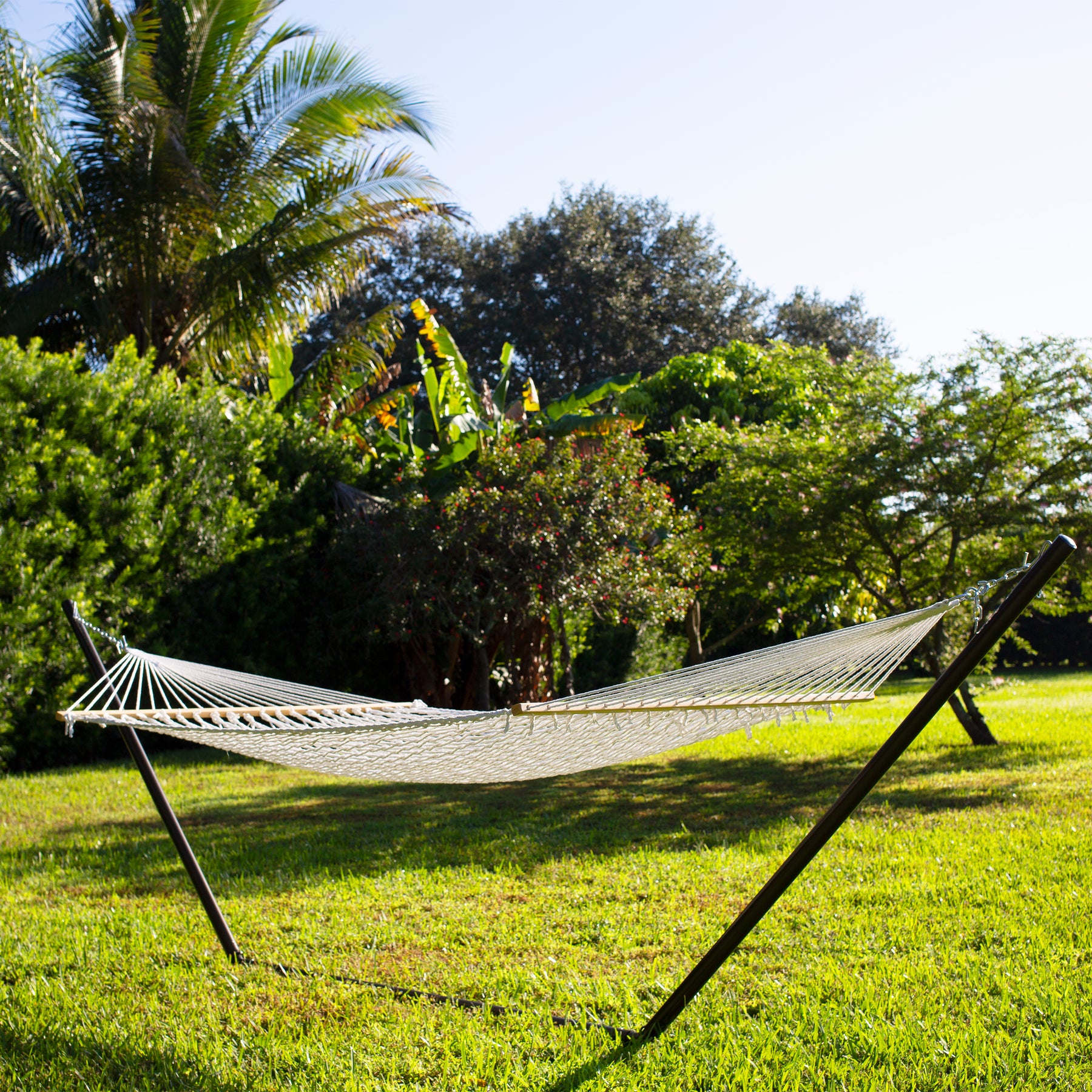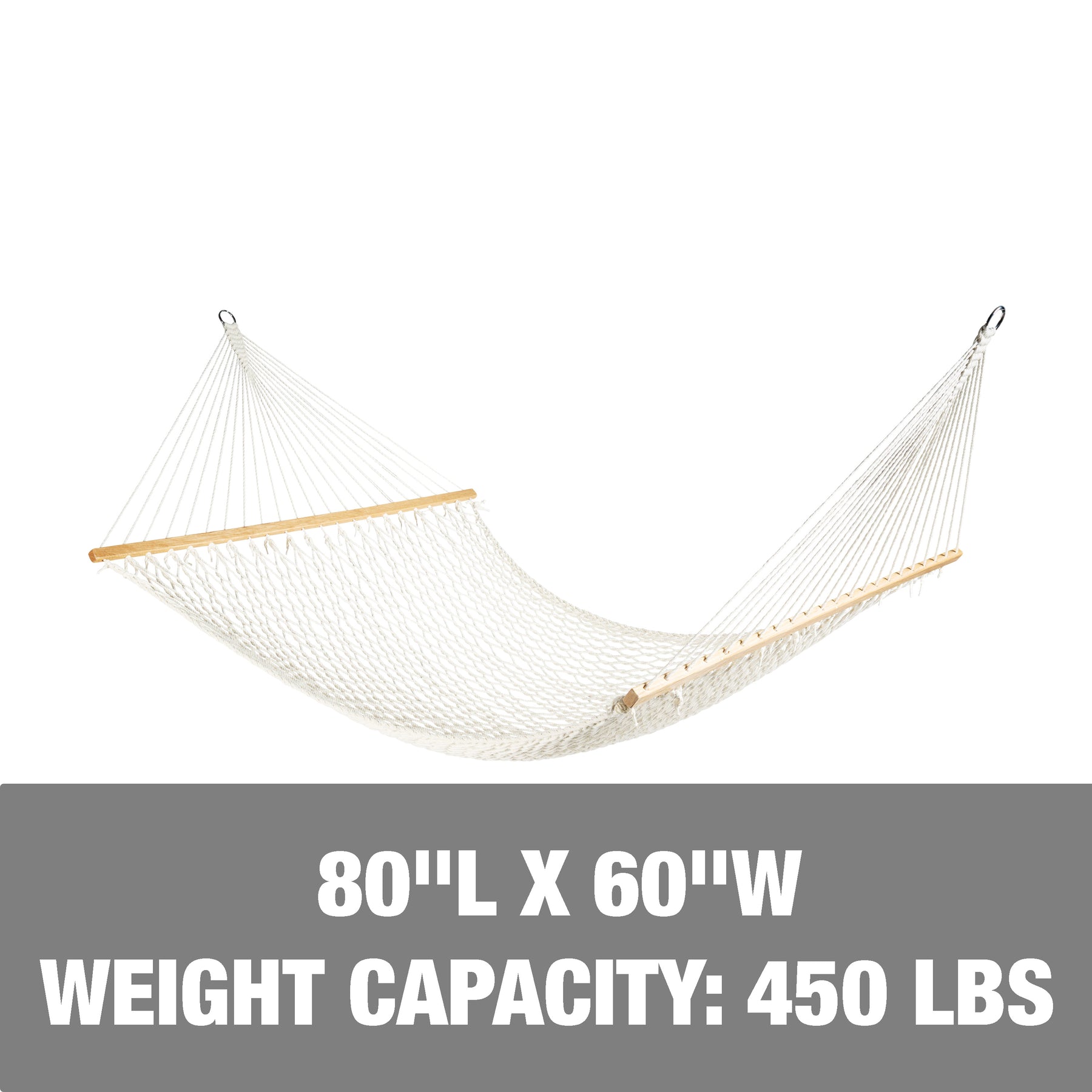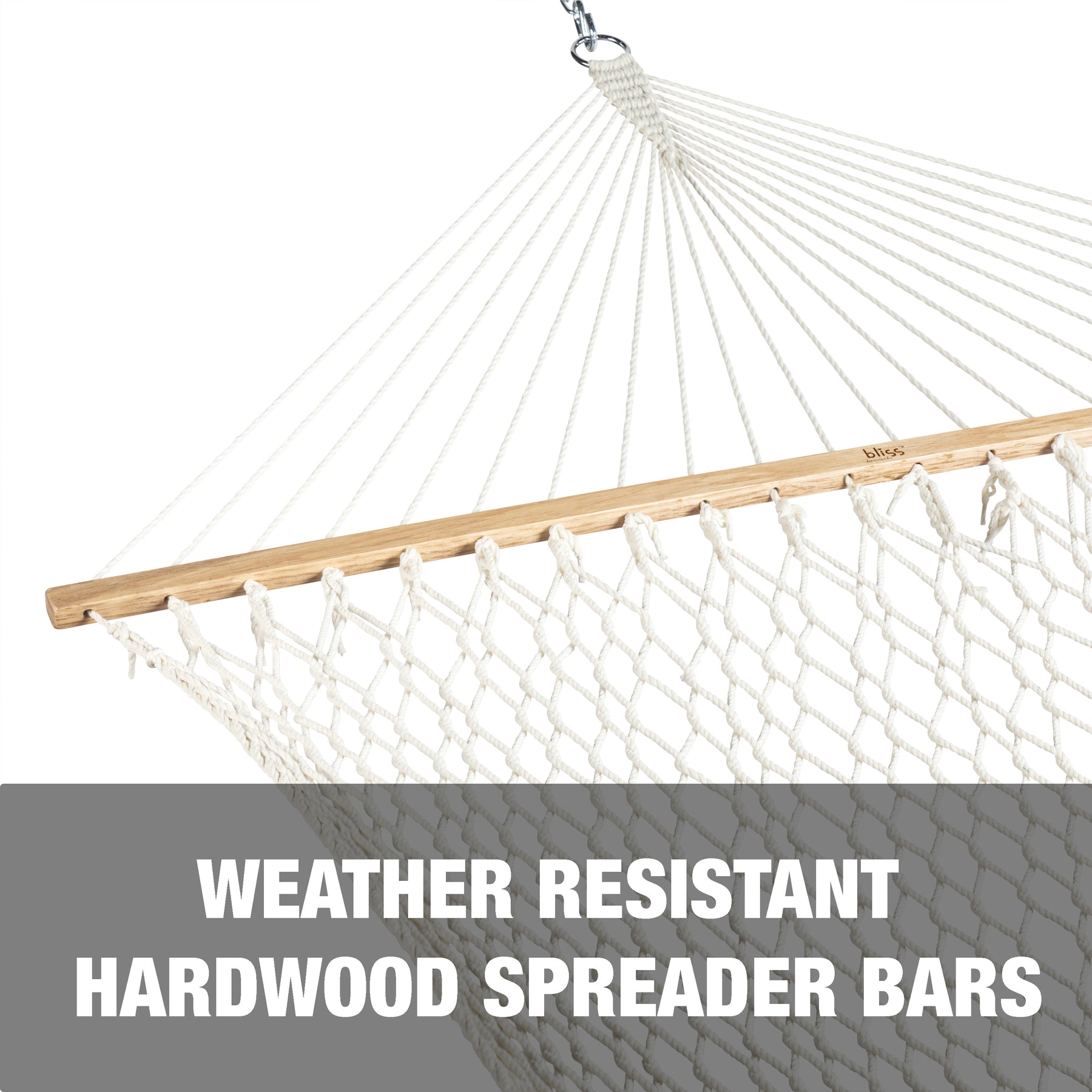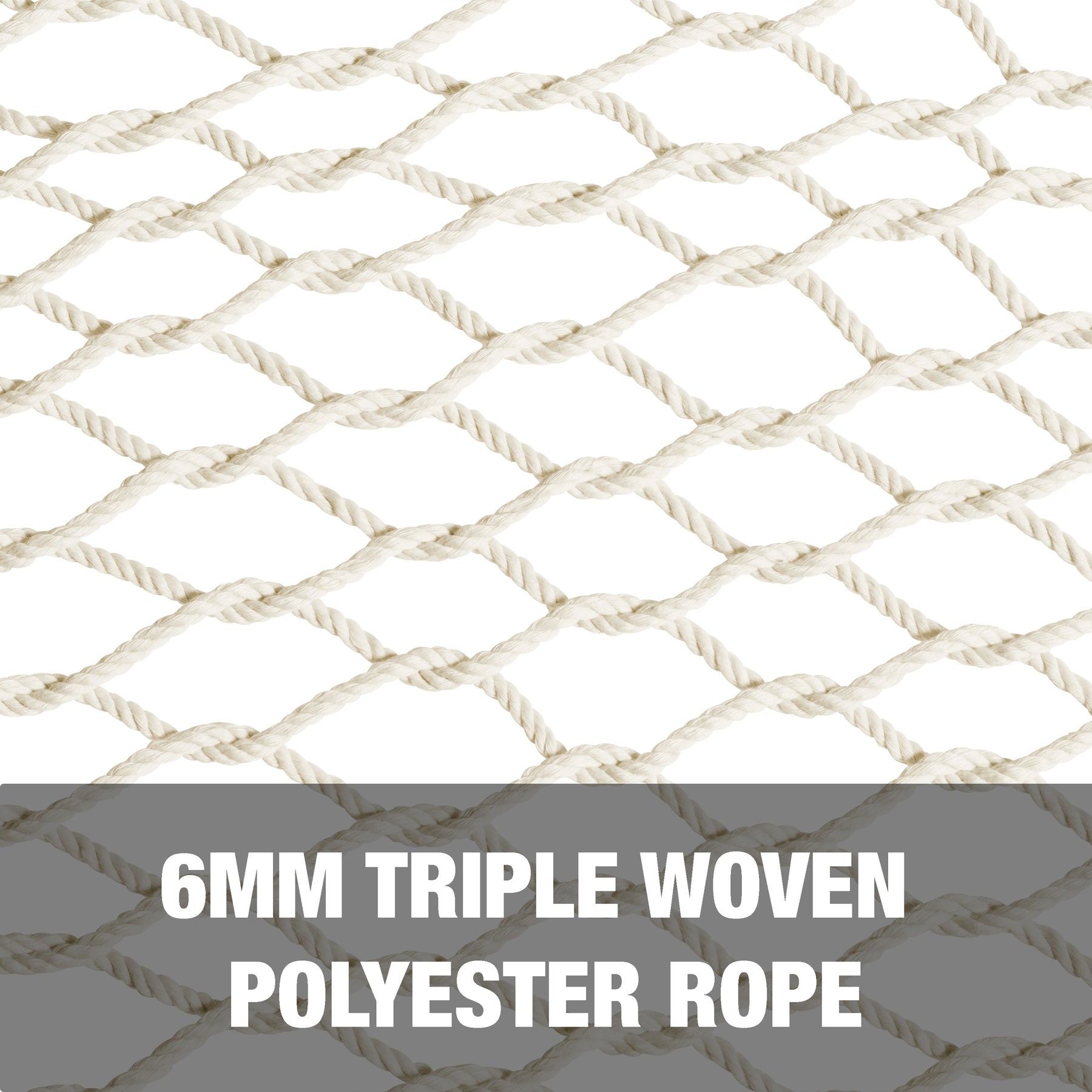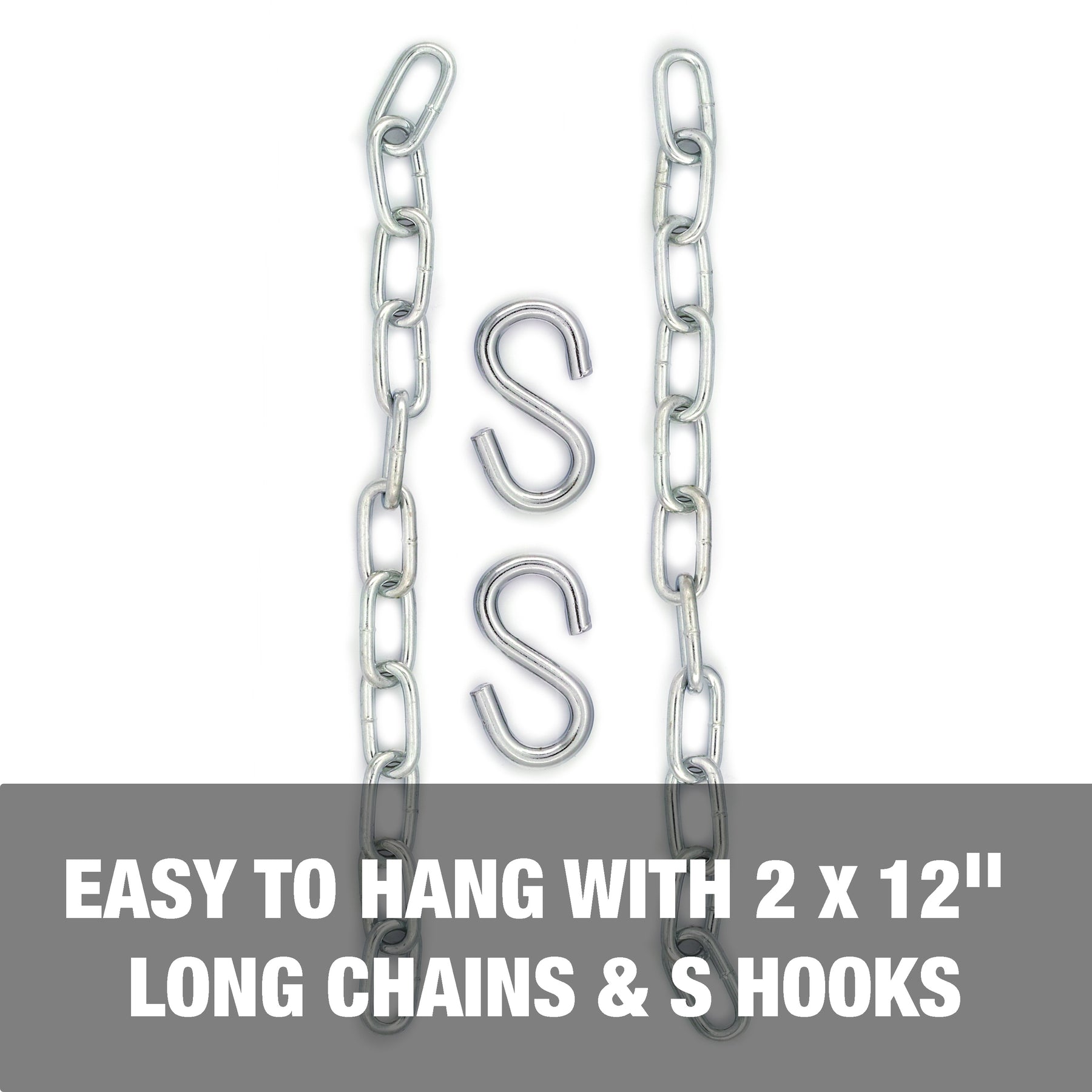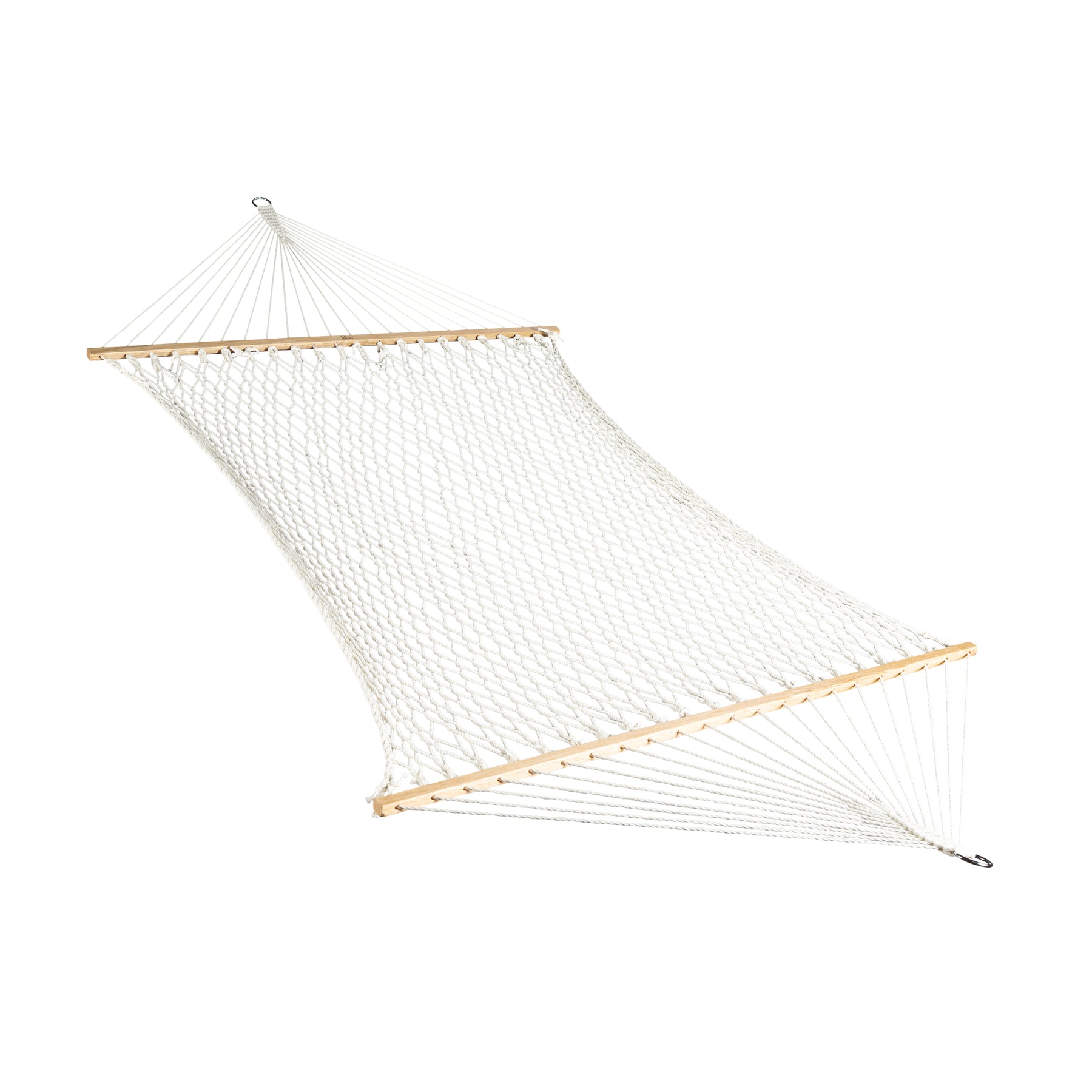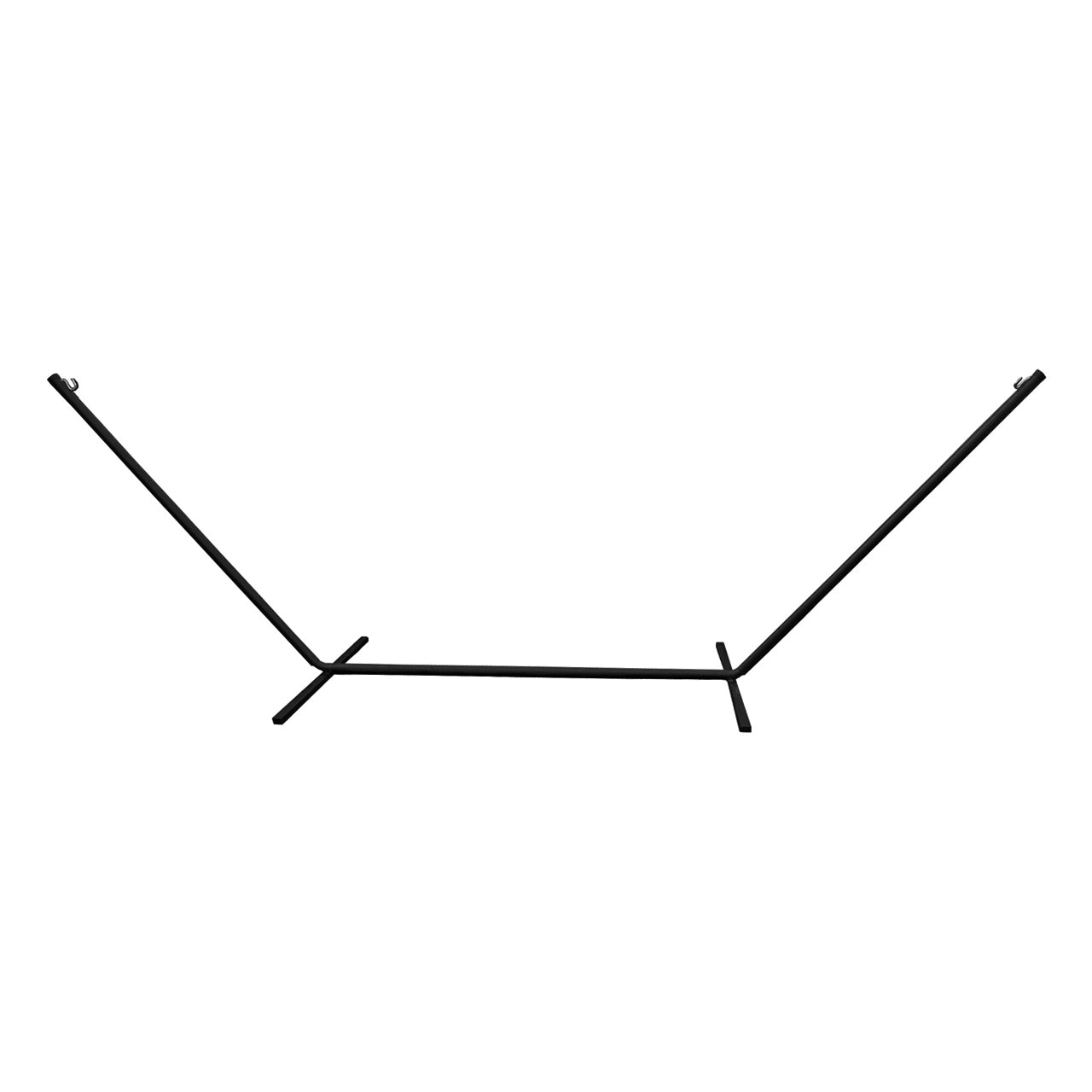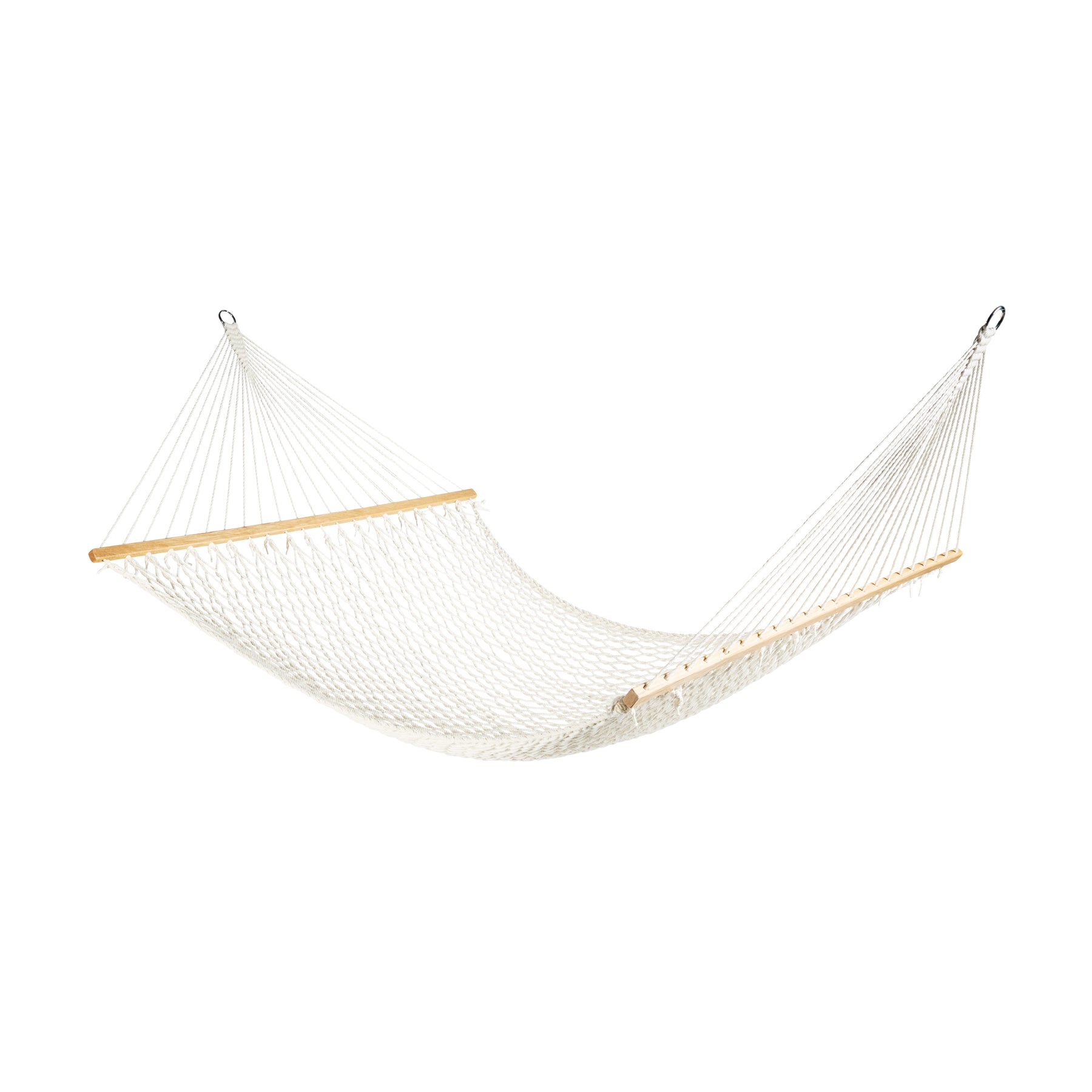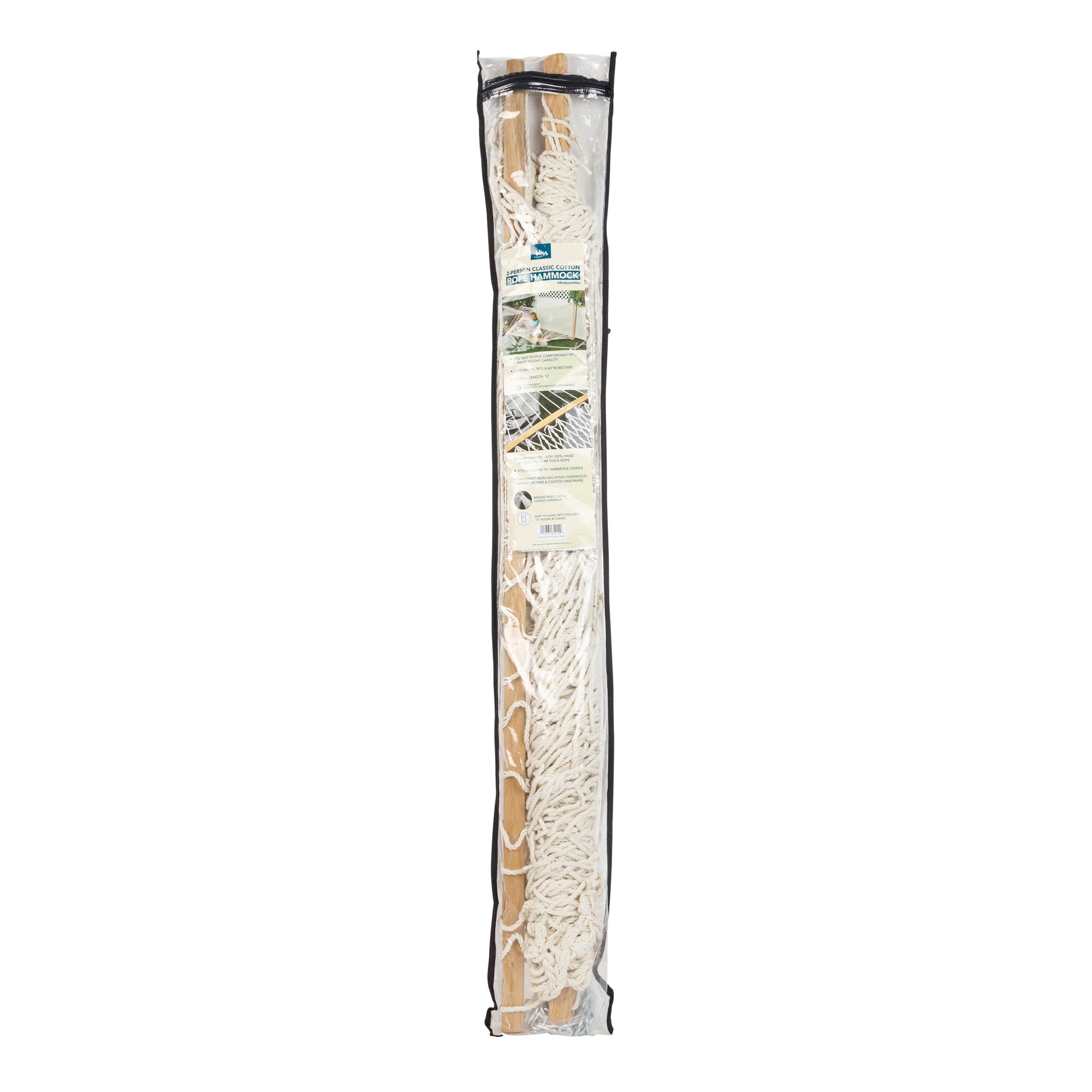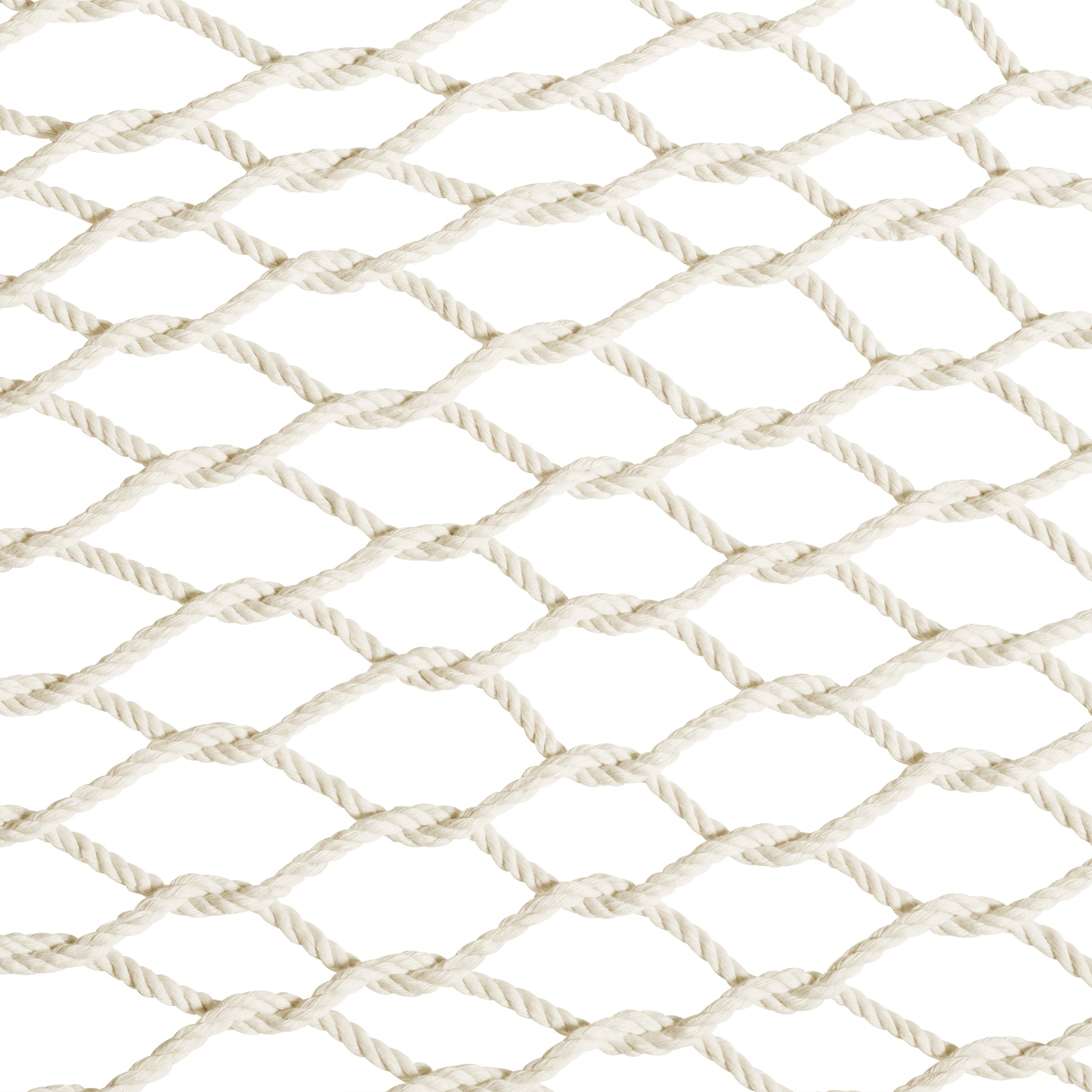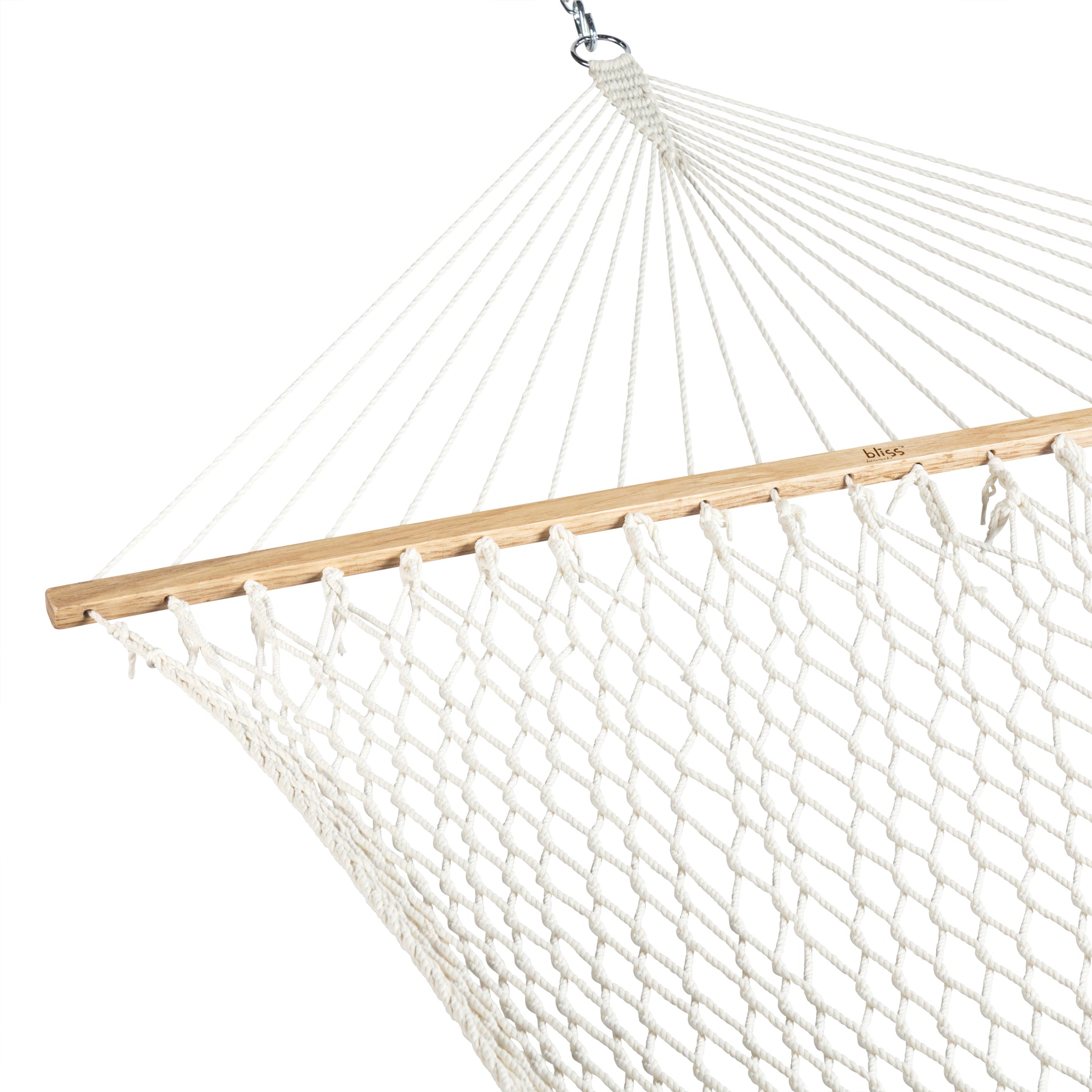 Classic 2-Person Rope Hammock + Stand Bundle
BH-410 - Bliss Hammocks 60" Wide Cotton Rope Hammock w/ Spreader Bar, S Hooks, & Chains
SLEEK AND STYLISH: Varnished hardwood spreader bars with weather resistant coating and 6mm thick braided rope
EXTRA DURABLE: Zinc-coated O rings are at the end of each braided rope for added strength to get you through the seasons
EASY TO HANG: Included zinc-coated hanging hardware (2) S Hooks & (2) 12" Chains makes it easy to secure your two-person rope hammock on a stand.
ECO FRIENDLY: 100% natural recycled cotton
DIMENSIONS: 6' 8" long x 5' wide bed size / Overall Length: 13' Weight Capacity: 450 lbs.
An American Classic from Bliss Hammocks®! Rope hammocks allow it to conform to the shape of your body and keep you cool in the shade at the same time. Made with soft triple weaved cotton rope measuring 6 mm. Hand woven and double braided sides for the perfect contour, this perfect fit will have you feeling like you're floating with the with the soft breeze coming from all angles of the hammock. Fits 2 comfortably with a 60" bed width and dries quickly. This classic is calling your name. Comes with a 1 year warranty... Find Your Bliss®
BHS-417BK - Bliss Hammocks 15' Hammock Stand w/ Hanging Hooks
SUPERIOR CONSTRUCTION: 15 ft extra strong steel stand with minimal foot print, ideal even for smaller yards. Constructed with heavy duty 2" steel tubing with U-brackets to reinforce the joints
EXTRA DURABILITY: Made of heavy-duty steel Galvanized and powder coated baked enamel finish for extra weather resistance and rust prevention
FIT: Designed for hammocks with an overall length of 10 to 14 feet (end loop to end loop). It accommodates a multitude of our hammocks with or without spreader bars, single or double hammocks.
EASY ASSEMBLY: Snap locks on the end of each tube allows for easy assembly. (2) Z Hook screws with nuts included to anchor your hammock to the heavy-duty stand.
DIMENSIONS: Fully Assembled: 15' L x 47.6" W x 47.6" H Weight Capacity: 500 lbs.
This 15' Bliss Hammocks® hammock stand Is perfect for single or double-sized hammocks. Hammocks & garden swings add to your comfort while relaxing at your backyard, deck, patio, or poolside. Hammocks are the perfect outdoor furniture to let you have a relaxed time by yourself or with family & friends. Product features: It has 15' Extra strong stand Constructed with galvanized heavy duty 2" steel tubing with U-brackets on the base to reinforce the joints and then covered in powder coated paint with a baked enamel finish to resist excessive weathering and rusting. Easy to assemble with snap lock tubing, no tools required and it comes with everything you need (including two hooks for hanging). Item specifications: accommodates single or double hammock up to 14' Long. Capacity: 500 lbs. Material: Galvanized heavy duty 2" Steel tubing with "U" Brackets to reinforce the joints. Included: Easy to assemble with snap Lock tubes & "S" Hooks included.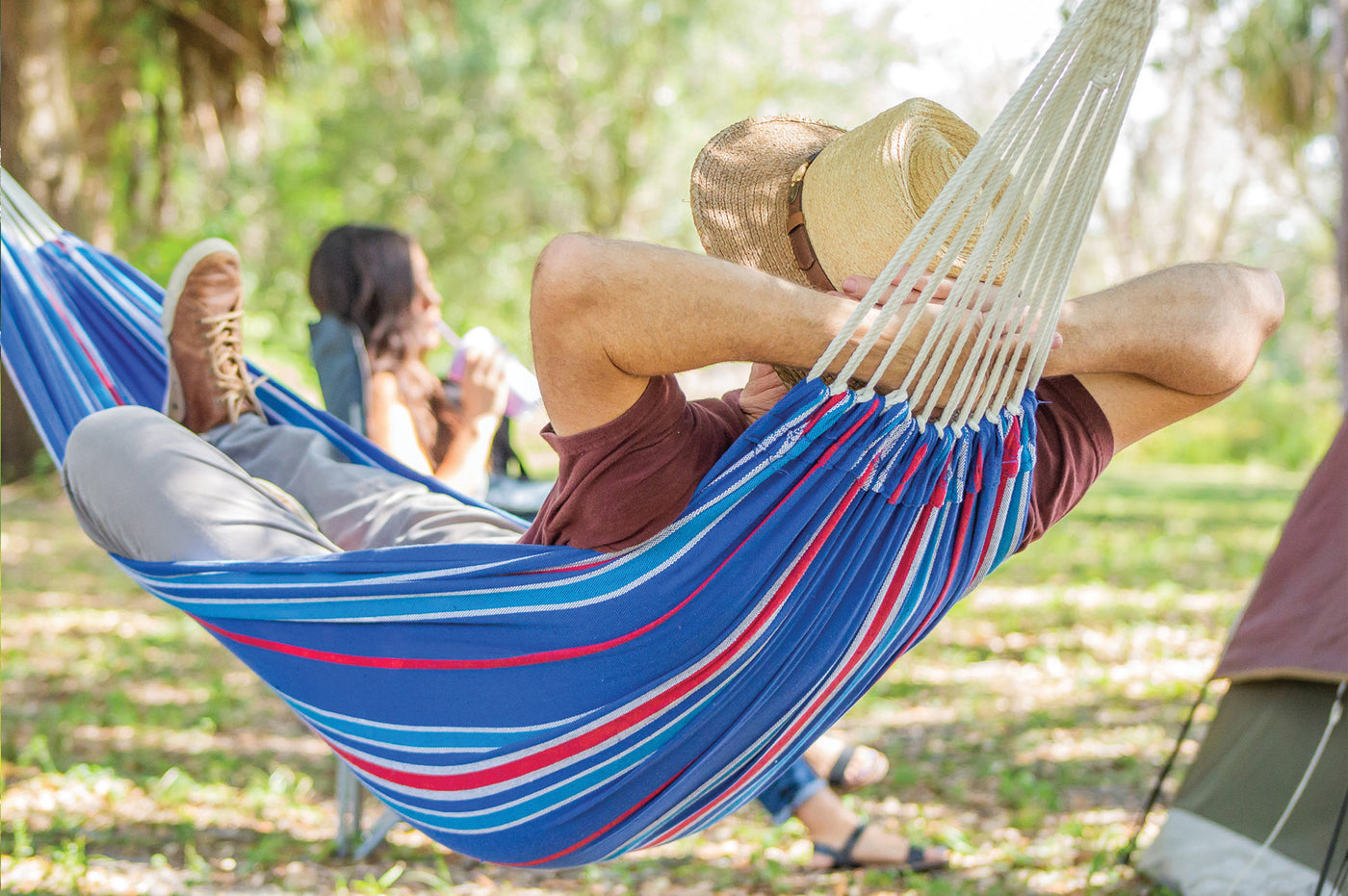 FIND YOUR BLISS
We are a culture built on moving fast. I started Bliss
Hammocks® as a way to force moments of pause and have a better quality of life.
A Bliss Hammocks® product is a small piece of comfort and a portable way to
appreciate the work we do and the quality in life we build. - Victor Sabbagh